Room Description
Any North Atlantic argonaut will encounter the very best in comfort here in the suites; the Southwest Suite's interior is lit by a big skylight window looking towards the eastern mountains and waterfalls, and another trapezoidal window overlooking the fields of Courelas and the waves of Fajã Grande's western shores. There is a small terrace where one can sit and contemplate the sunset over the sea, the church and the westernmost houses of Europe. The bathroom of the Southwest Suite features a small bathtub, and the new bed is a sommier topped with a wide latex mattress (cm.200×160). The slatted doors of the wardrobe keep the clothes aired while the sofa, table, chairs, a music player, Encyclopedia Britannica, historical books, a pedestal fan help ensure the guests' comfort and relaxation. At 30 sq. metres, the Southwest Suite can comfortably host 2, 3 or 4 people with the queen sofa-bed and dividing curtains or additional single beds, very comfortable.
Reserve this Room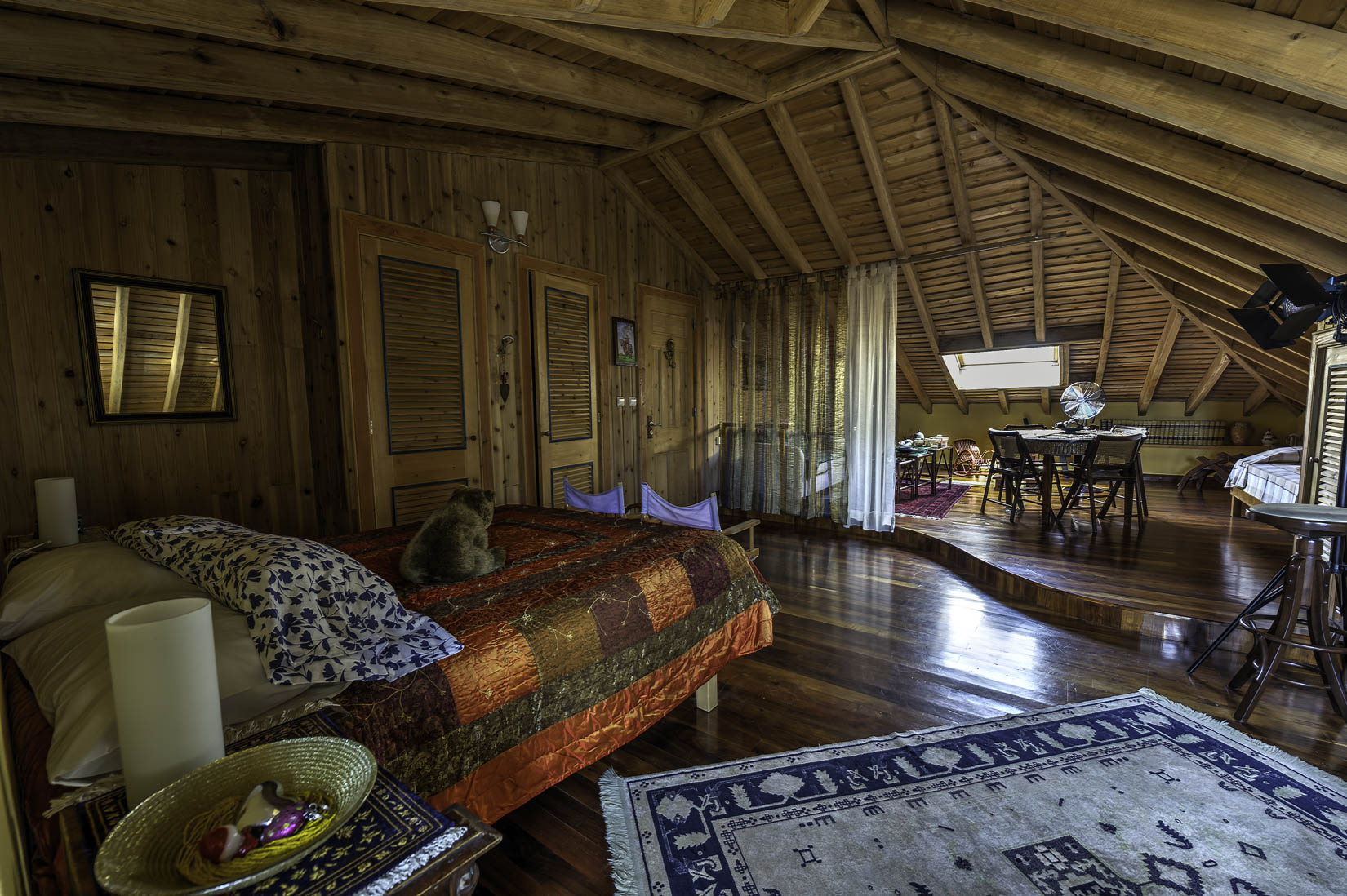 Useful electronics
Mini fridge and hair dryer.
Sleeps 4
The Suite, Flores' largest bedrooms designed with its composition, could host four comfortable nests through a Queen sofa-bed or an additional Single bed by dividing curtains and furnitures.
Massages & Therapies
Relax your body after a long trekking day. Complete health benefits techniques with healing sessions assessing the physical posture or, massage and teaching for heal and hurts all performed by several qualified great professionals. Portuguese, French and English. Book it with us!
Private Shower Bathtub
The bathroom with bath shower, expresses the texture of the local basalt stone.
Free tea & coffee & water
You will have real Açorean tea, coffee and the great soft water of Flores in you room, the same of your sink.
Internet Access
Optic fibre's cable reached Flores but arriving here in Fajã Grande by antennas, we can now offer a discrete free internet connection access to our guests through our dedicated WI-FI network. Sometime it is possible to have a slow connection due to low humid clouds.
Mountain and Sea Views
A beautiful view of the sunset over the Atlantic Ocean toward the islet of Monchique to the north and share another view over the mountains and waterfalls to the east.
Low Season Sudoeste
November 1st - March 31st
En-suite bathroom (bath)
Mountain and Sea Views
Top quality organic latex mattress
Crisp white and colored linen
A healthy and robust breakfast
High Season Sudoeste
April 1st - October 31st
En-suite bathroom (bath)
Mountain and Sea Views
Top quality organic latex mattress
Crisp white and colored linen
A healthy and robust breakfast
Choose dates, add your email, name and book!
Minimum stay of 3 nights. You will be contacted soon with availability, total price, and info to secure the reservation – Cancellations: free until a month ahead of time; payment of 50% of the whole stay between 15 & 30 days ahead of time; cancellation between 1 & 15 days prior arrival, or No show: we charge the whole cost of the stay.
PLEASE CHECK THE EMAIL YOU ARE WRITING
BECAUSE SOMETIMES I RECEIVE WRONG WRITTEN
EMAILS AND CANNOT DELIVER THE ANSWER!