Room Description
Gaia offers unique features within its unusual one bedroom apartment layout: independent access from the outside world by way of a stone staircase which goes on to the common pátio, where you can relax outdoor; the connection to the rest of the house is near the Living Room. There's a comfortable cm.200×145 double bed with organic latex mattress, accommodation is only double (no twin). The suite has a wardrobe, a kitchenette with small stove/oven and kitchen utensils, a cupboard, a sink, and table. The guest can also enjoy a traditional woodfire oven with chimney and wood, and an old kitchen iron plate which can be used as a fireplace. The bathroom with its large double bath (cm.190×90) is a mark in local history as it was the first bathroom incorporated inside a house in the village of Fajã Grande, built in 1929 by Lucindo de Freitas! Accommodation is only double (no twin)
Reserve this Room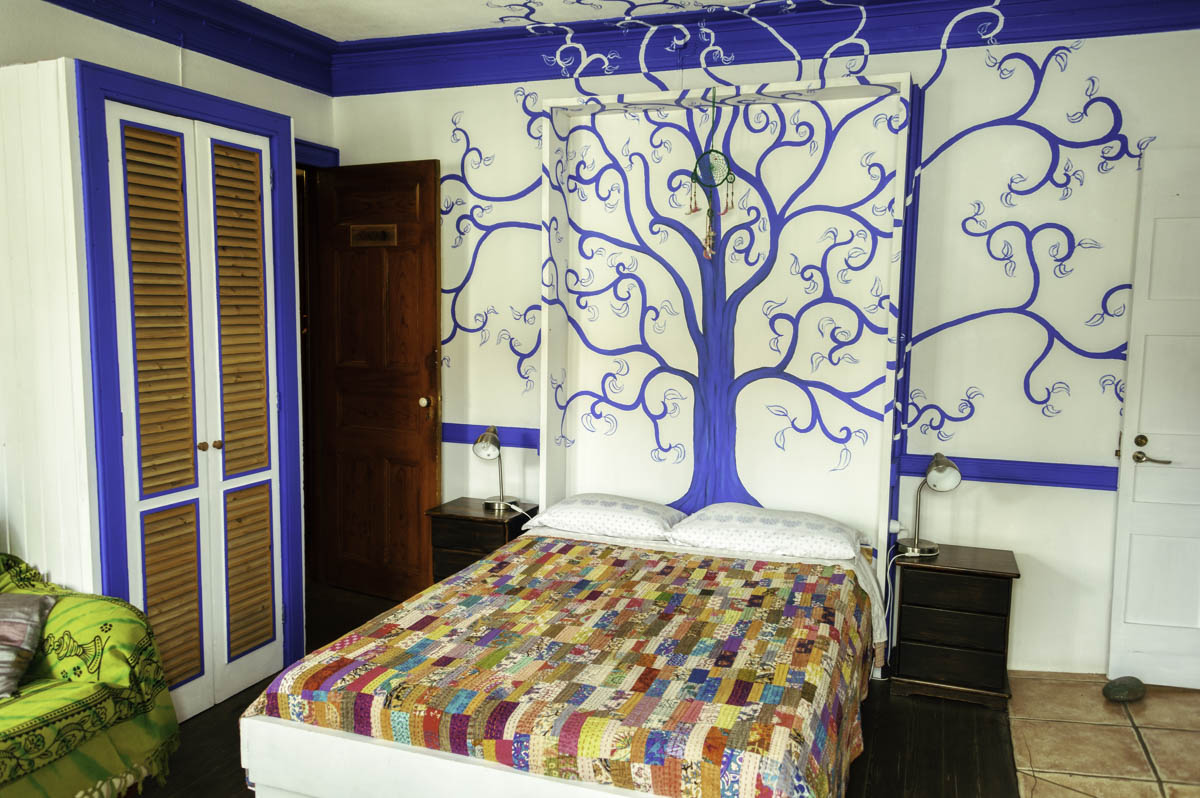 Useful electronics
Mini fridge and hair dryer.
Private Entrance/Exit
The room has a direct access to the Argonauta's patio and the lava rock staircase on the right side bring to a little gate in the main road.
Massages & Therapies
Relax your body after a long trekking day. Complete health benefits techniques with healing sessions assessing the physical posture or, massage and teaching for heal and hurts all performed by several qualified great professionals. Portuguese, French and English. Book it with us!
Private Shower Bathtub
The bathroom with bath shower, expresses the texture of the local basalt stone.
Free tea & coffee & water
You will have real Açorean tea, coffee and the great pure water of Flores in you room taken regularly at the source, even if your sink has potable water but with fluorine, like in EU.
Internet Access
Free wifi connection, possibility to also have a wired connection for computers.
€140/€130
night double/single
2023 Season – Gaia
November 1st - December 31st
En-suite bathroom (bath)
Private entrance & exit
Top quality organic latex mattress
White cotton linen
A healthy and robust breakfast
Please read our FAQ
Choose dates, add your email, name and book!
Minimum stay of 3 nights. You will be contacted soon with availability, total price, and info to secure the reservation – Cancellations: free until a month ahead of time; payment of 50% of the whole stay between 15 & 30 days ahead of time; cancellation between 1 & 15 days prior arrival, or No show: we charge the whole cost of the stay.
PLEASE CHECK THE EMAIL YOU ARE WRITING
SOMETIMES WE RECEIVE WRONG WRITTEN ONES
AND WE CANNOT DELIVER THE ANSWER!